BIO

: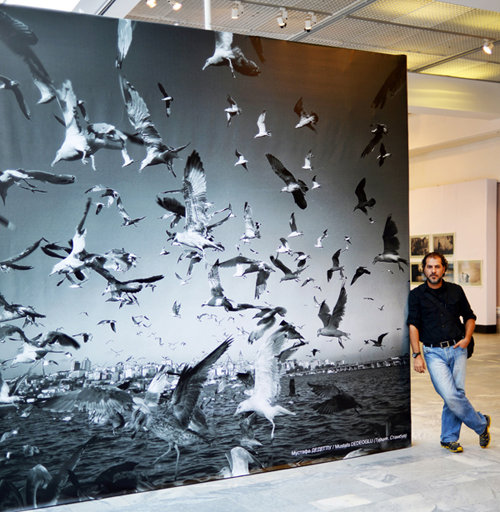 Mustafa Dedeoğlu was born in Istanbul, in 1978. After having completed primary and secondary schools in Turkey, he left for Cyprus for university studies. Having graduated from Eastern Mediterranean University with diploma in industrial engineering, he returned to his home city of Istanbul, where he now lives and continues creating his photography essays. He first got in touch with photography in 2006. With time his interest became ever-growing passion of his life. In his creations the artist prioritizes composition, the story, that he aims to tell, emotional value of the image and its aesthetic qualities. To Mustafa Dedeoğlu style in photography is first of all reflection of the artist's personality and philosophy in each and every photo he takes, rather than series of similar photos taken with same technique. Mustafa Dedeoğlu's works are published in various local and foreign titles on art. The artist also shares his creations through exhibitions. Mustafa Dedeoğlu has been displaying his art in Russia, Spain, Bosnia and Herzegovina, Georgia, Kosovo, Macedonia, America, Tehran and France.
mustafadedeoglu34@gmail.com
PROJECTS

:
Timeless City Istanbul and Faces
Human After All
Anatolia
Ashura Mourning Day
Captive Birds
One / Searching
Workers
Handmade
Gipsys
Human After All
February Mood
EXHIBITIONS:
2015 –
National Village Museum
Bucharest /
ROMANIA
2015 –
Novgorod Photography Museum
Nizhny Novgorod /
RUSSIA
2014 –
Art Share L.A.
Los Angeles /
USA
2014 –
Anwatin Middle School
&
Northwest Museum
Minneapolis-Spokane /
USA
2014 –
Manastır Culture House
Bitola /
MACEDONIA
2014 –
National Gallery of Macedonia
Skopje /
MACEDONIA
2014 –
YEE – Turski kulturni centar Sarajevo
Sarajevo /
BOSNIA
-HERZEGOVINA
2014 –
Farhangistan-ı Honer / Saba Gallery
​ ​ Tahran /
IRAN
2014 –
Collegium Artisticum Gallery
​ ​ Sarajevo /
BOSNIA
-HERZEGOVINA
2014 –
Kosova National Museum
​ ​
KOSOVA
2014 –
Kazan State Museum of Fine Arts
​ ​ Kazan /
RUSSIA
2014 –
FineArt Igualada PhotoFestival
​ ​
BARCELONA
​
2014 – ​
The Museum of the History of Yoshkar – Ola City
​ ​ Mari El Republic /
RUSSIA
2014 –
The Museum of the History of Yoshkar – Ola City
​ ​ Mari El Republic /
RUSSIA
2013 –
Batumi Turkish Consulate Cultural Center
Batumi /
GEORGIA
2013 –
Institut Estudis Fotogràfics Catalunya (IEFC)
​ ​
BARCELONA
2013 –
Kazan Turkish Consulate Cultural Center
​ ​ Kazan /
RUSSIA
2013 –
Chuvash National Museum
​ ​ Chuvash /
RUSSIA
​2013 –
FotoSoyuz Gallery
Moscow /
RUSSIA
2012 –
Photo Vernissage
St. Petersburg /
RUSSIA
2011 –
Free Organization
Nice /
FRANCE
Publications and Reviews: